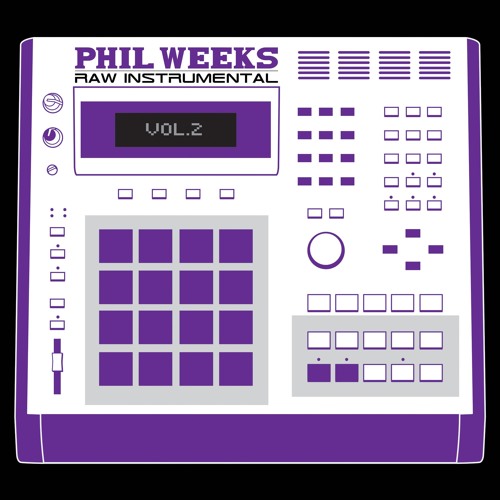 PLAY - Phil Weeks - Raw Instrumental 2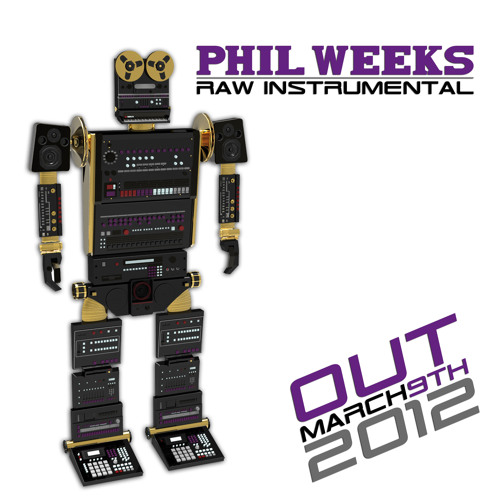 PLAY - Phil Weeks - Raw Instrumental
So first off Raw Instrumental 2 has just dropped and its sounding like a banger! Nice work! What was your process for this album? We've seen you jam out on your MPC in your YouTube videos… do you just go about making a load of grooves and then go from there to turn them into full tracks?
I make music as much as I can. It's what I'd call my fun time. A job and a hobby rolled into one. Lucky right?
I usually start a track and finish it before going to the next one. I'm not really into having a whole bunch of unfinished projects archived. So at one point I had a whole collection of tracks ready plus some already scheduled to come out. So I thought I should do what I saw as a double pack. Eight tracks, bang, locked down.  I still look at it as more of a double-pack vinyl than an album.
How big do you think your vinyl collection is now and what are your most prized pieces?

I had to move the studio recently so I know I have between 10 & 11 thousands records.
Mostly House Music, Hip Hop, Soul, Disco, Reggae, Jazz, World Music.
Really hard to choose from my collection so here's a bunch of my favourites!


Do you ever worry about sampling… Im guessing you try and stay clear of the obvious big ones?
Ever been stung for something you've used?

Ok, so here is my trick. I usually sample everything I want, I honestly don't care. Sometimes I think about it, but then I still do it. I'm trying to be creative in one way or another. I've been stung once or twice and dealt with it accordingly ;) 
The Chicago Connection - Dancin' (Mark Grant Remix)
What made you chose to do an album type format rather than another couple of EPs?

Yeah well, as I kinda mentioned earlier, I do see this as more of a double pack. On the album front, usually I have an idea or concept before I really get into it. "Love Affair" (2011),  "Raw Instrumental Vol.1" (2012), "Pimpin' Ain't Easy" (2015), were the three albums I made that I would really consider as true albums, in their construction and the way they're supposed to be listened to.

This new Raw Instrumental Vol. 2 is still a dope project and collection of music. Perfect to kill the dancefloor, but I would be lying if I said that I'd thought long and hard about creating some concept for it. It's a collection of dancefloor weapons.
On "House Head" you talk about how you stuck with the House sound while everyone was moving off into whatever was hot… Can you tell us a bit more about that and what it was like sticking to your guns.

Ha, totally. So around 2005, the "Electro rock/clash" shit arrived and it was so hype that I saw most House DJs move across to play it. I couldn't believe it actually. Then maybe 2 years later, that was over and everybody switched to what they called "Minimal".


At this time it was very tough ya know. You could name on one hand the European House DJ playing House Music (I'm talking about the ones touring). A lot of DJs were telling me they were bored with House, that it was always the same. I was shocked. I couldn't understand them. I didn't like what they were playing, at all. Nothing 'House' in it at all. It was much closer to techno for me. That was a dark time for House Music.


But I couldn't do anything else, impossible for me to play music I don't like. Whatever cost I will stick to what I love.
House music has had a pretty crazy few years with popularity again… how has that been for you?

It's been a lot of fun. I think it was a big success for me. Being able to play small clubs, big clubs, big festivals everywhere in the world without making any compromise on the music.


I also think people now enjoy knowing more about an artists personality. I noticed that when I began to open up more about myself, my life & the studio things, mainly through my Facebook, that fans we're really responsive.

I mean, you can be super talented but if you're not a cool motherfucker it will still be hard to reach the success.
We're always super excited to get a Robsoul release through as we're in love with the sound behind the label. Can you give us a bit of history behind the label and where you see it going in the next few years?

Well, as I've mentioned, my tastes are not really changing so much & I'm very proud of that. I still like the same music as I did when I was growing up. I'm not the kind of guy who try's to invent or reinvent anything, new style or whatever. That means that Robsoul will continue down this road, turning out quality House Music.

About the history, I started Robsoul in 1999 (the idea) but opened the company officially in 2000. It was initially started as a home to release my own music. I then signed other artists to develop the label further. I started pretty slowly and now it's on another level.
How do you stay on top of all the releases, DJing and producing… do you have help? Who's the Robsoul team and how did you meet?
Yes we have a very good team. Maya is working full time on everything label related, that I can't stay on top off and so I can stay more creative. She takes care of the YouTube channel, uploading digital with Finetunes & Beatport, Robsoul Shop, Robsoul Facebook, and Podcast…etc
Then my partners – Pascal (TW Management) for my bookings, the Robsoul parties. Diego Dentico (DNZ) for Italy. Vincent Quittard (Finetunes) my digital distributor.
Didier Allyne (Syncrophone) to distribute the vinyl. Carson Carr for the video (Underground Chronicles). Shinzu Shinzoo for the design & graphics. Alexandre (Atal Music) for the publishing. Defensive Music for the Neighboring Rights. A great team.
I work a lot personally, I have no choice if I want to stay on top of everything. But I love it. I love it when I have no time. Saying that, I'm now in a position where I can take some days off whenever I want to.
How many artists have you got involved with the label regularly now… We've loved the last few Sebo K and Around 7 releases!

We have a lot. That's why Robsoul drops something new every two weeks or so. If I was spacing the releases further then each artist would have to wait over 1 year for a release, which is not acceptable for me.

Involved regularly, I would say we've got: Joss Moog, Around7, Chris Carrier, DJ W!ld, D'Julz, Cockney Lama, Javi Bora, Hideto Omura, Nail, Tommy Vicari Jr, Sebo K, Arturo Garces, Alci, Chris Stussy, DJ Q, Iban Montoro & Jazzman Wax. I hope I didn't forget anybody!

Are they releasing just with you now?

Some of them are releasing mainly with me but I don't ask for any exclusivity, everybody is free to release anywhere they want to. The most exclusive might be me, ha ha, but I still feature my music on other labels every now and then.

We caught you a few years back at Oval Space in London absolutely rocking the crowd.
Where's your favourite place to play…
Do you see differences in the crowds when you're touring?
Or is a House Head the same everywhere in the world?

Honestly? I like to play everywhere, I love to play in France, its my own country. I love the craziness of South America, where I feel the people are so fresh and excited about House Music. Like if it was in the late 90's in Europe & USA all over again. I love so much Italy, that's the country I play the most. And Spain!! So dope too… Holland is also fantastic. I wish I would play more in Japan.

You know, every place has its own charm.
Do you ever struggle to make music whilst touring so much or have you got a good system to keep fresh and creative?
I can only really create music in my studio.  I wish I had more time for production for sure, but I still look for samples everywhere on my travels & when I find a dope sample then I can consider the track is pretty much done already.  A few times a year I also organize some long sessions where I stay close to home, in the studio for one week and focus fully. I love this approach also.
And finally you're surrounded by House… surely you've gotta get away sometimes?!
What do you listen to when you're trying to chill or if you've got a mega hangover?
I rarely listen to House Music outside of DJing. I listen mostly to the genres that have played their part in the creation of House music. Mainly oldies, black music, and a little "non soul" music for texture. This is also my pleasure.  The Album is my favorite format for listening. I always have music as a soundtrack when I run/bike, drive my car or when I travel.
Raw Instrumental Vol.2 is out now on Juno

Phil Weeks Facebook
Phil Weeks Soundcloud